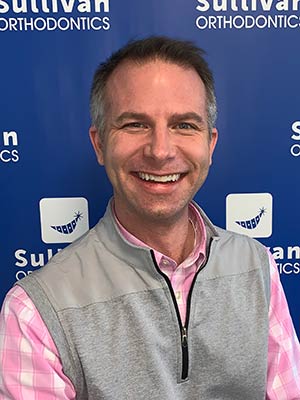 About John P. Sullivan, DMD
A great smile tells so much about a person.  There are few situations in life that cannot be improved by a smile. As an orthodontist, the most rewarding part of my practice is being able to really get to know my patients.
It is extremely fulfilling to be a positive aspect in their oral health and overall happiness. I never want to be a revolving door for my patients, and I love building lasting and trusting relationships. My patients know that I am always there for them and that I will always do everything that I can to help them obtain a lifetime of brilliant smiles. It is pure delight when I see smiles of laughter on our patient's face.
Education & Continuing Education
Along the road toward becoming an orthodontist, I attended the following academic institutions:
St. Lawrence University – Bachelor of Arts
Harvard University Extension School – Pre-medical studies
Boston University Dental School – Doctorate of Medical Dentistry
U.S. Navy – Advanced Education in General Dentistry Residency
University of Rochester Eastman Dental Center – Orthodontic Residency
I understand how important it is for my patients that I stay at the forefront of all the latest developments within the orthodontic field. For this reason, I make it a priority to commit many hours each year to continuing education courses and seminars in a wide variety of dental disciplines.
Professional Memberships
I am further able to stay abreast of all the cutting edge orthodontic trends, treatments, and techniques by engaging and participating in the following professional affiliations:
American Association of Orthodontists
American Dental Association
North East Society of Orthodontists
New York State Dental Association
Monroe County Dental Society